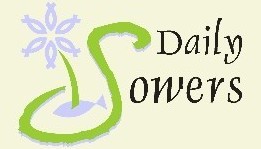 WELCOME
"Making request with joy, for your fellowship in the gospel from the first day until now" (Phil. 1:4-5)
IMPORTANT NOTICE: please note our new email address at dailysowers@tlb.sympatico.ca
---
About Us
Daily Sowers is a non-denominational, non-profit Christian ministry with the objective of stimulating the children of God to gospel outreach and also provide free edification ministry (follow the EDIFICATION link above). While the Spirit of God impresses upon our souls the imminence of the soon return of our Lord Jesus Christ, according to His express promise, His love constrains us to persuade men and also to persuade our brothers and sisters in Christ of the urgency of sharing the good news of salvation through faith in the Lord Jesus. We believe the Lord Jesus, the Son of God, God Himself manifest in flesh, died on the cross to save sinners like us and like all those who need to hear! And how shall they hear without a preacher (Romans 10:14)!
Daily Sowers - A call to share the Gospel
Dear fellow believer in the Lord Jesus,
You may not be a preacher; you may be timid or have some other limitation when it comes to telling others about the Lord Jesus. But here is a simple proposition to encourage you to be active in the work of God Who is seeking and saving lost souls. You can be part of a revival by becoming a Daily Sower. Here is how it works...
Becoming a Daily Sower is simply making a heart commitment to share the gospel once a day or the equivalent (7 times in a week or 30 in a month). This can be done through literature, by phone, on the Internet, in person or any other means. Should you skip a day, just catch up on the next. Is such a commitment possible for you?

Become a Daily Sower today...
Why not make the Daily Sower commitment now and then faithfully apply yourself to it and also pray for the recipients. We suggest you use an agenda or a control sheet for prayer and to follow-up on your distribution. Don't be surprised if you are sharing the gospel much more often than before; you will naturally be more conscious of the opportunities the Lord sends your way and you'll be exercised to carry gospel literature with you all the time. We believe making the Daily Sower commitment is a simple, informal and effective way of staying active in the sharing of the good news of Jesus Christ. To help you with your outreach we have put together some interesting free material you can use, see our Resources section. You will find helpful material, tracts to download, suggestions and ideas. You'll find ways to meet your commitment without leaving your keyboard - check out our internet suggestions by clicking here. Just a few daily sowers could reach thousands of souls in a year. Imagine the potential! Start today! Click here to inform us of your commitment . Should you not want us to retain your email address, there is a provision to this effect in the above link. Click on this link to go directly to our Resources page. Take a few minutes also to visit our pages in other languages.
Tell others
Get your Christian friends, your acquaintances, those on your mailing list to visit this site; they too can become Daily Sowers. Click here to refer this site to a friend. We would really be encouraged to hear of any who decide to become a Daily Sower; should we hear from you we will add your encouraging data to our statistics page. These statistics are just to encourage and stimulate interest in this ministry; it simply keeps track of the level of activity by locations and countries where Daily Sowers have informed us of their commitment. If you have already advised us of yours (see link to this effect in the above paragraph), your geographical data will be included in our next update. We pray Daily Sowers will grow in numbers and world coverage - and that you will have a part in it! You can write to us; here's our email

Last update 2014/04/22
Daily Sowers, 536 Notre-Dame, St-Hugues Quebec Canada J0H 1N05>